I wanted to talk to ya'll today about something that has been tugging at my planner girl heart...
I have been planning in my planner and not opening it until the next week! Isn't that freaking INSANE?!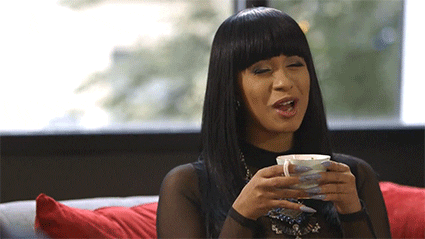 Like, why would I spend 20 mins + planning, using stickers that I paid for, and writing so perfect I needed complete alone time?! I'm guilty though...
I plan to detail 4 things that kept me from planning and how I turned it around. Starting Now....
1.Out of Sight.
When it came time to plan on Sundays... I was planning! When Monday came, my planner stayed downstairs in my craft room and I consistently started my day without even looking at it! My planner was out of site out of mind. When I finally made it to my craft room it was late at night or 2-3 days into the week. So not productive!
Now: I wake up & head directly to my craft room before the rest of my house is awake. I am excited to grab coffee and have quiet time with my planner at my clean desk. It's my setting for my Magic Mornings!
2.No Time.
Blah, blah, blah - all excuses. I was convinced that I couldn't figure out a time schedule that would allow me to wife, mom, clean, and work all at the same time. I also had fitness goals that I was hell bent on meeting so add exercise to that there was no time ever!
Now: I plan my week looking at 168 hours. I view time as an asset to allow me to structure the things that bring me joy. Changing those 2 things allowed me to respect time for myself and each thing that brings me joy. I plan more fun in my life and use the 168 hours to make it happen! Check out Laura Vanderkam; she helped me.
3.This ain't workin'...
I was using a planner that was adorable but wasn't flexible enough for my current lifestyle. I have always been an A5 planner girl! Hardcore! The issue with that was, having to buy inserts & sticker kits and things from people online.
I wasn't head over heels for the inserts at Hobby Lobby or Michael's so Etsy became BAE! Then Hubby was like,BAE?!! And I was like, Ight Bae...When I started being home full time last July I realized I needed a system that was diverse & readily available to use! I'm not the type of girl that prints and cuts inserts because well, I get frustrated! I was on the fence with Happy Planner because a year and 1/2 ago my rings broke on me & I hadn't recovered. However, the recent dopeness that the brand had been displaying was catching my eyes EVERYTIME I went to get Michael's or Hobby Lobby inserts! 
Now: I have a Big Happy Planner and I am in love! When I tried this brand last I was doing the mom hustle and bustle and the discs that bind this planner weren't sturdy enough to withstand my purse slings! BUT NOW: I am happy to report that I have metal EXPANDED discs and this planner is as flexible as my lifestyle!
4.Change Happening.
When things changed I would get discouraged instead of re-planning. I wouldn't have my planner handy when changes occurred thus I made plans on "the fly" & never updated my planner of the new details or schedules. I would rely on me remembering , which Hunaaaay, is not the ticket! This easy fix was prohibiting me from keeping my planner a relevant part of my life.
Now: I have a handy EDC, every day carry, planner. I update it nightly as apart of my nighttime routine and it stays in my purse so I always have it handy, to jot down things that need to make it to my main planner. My EDC is a B6 Planner that houses 2 booklets; one contacts & one reading log & a Mini Happy Planner!
In 2019, I am using my planner to all of its abilities! It's amazing what us women do to keep our households & ourselves up to date! These minor changes are allowing me to add more harmony into my life. They are helping my children and husband move threw life easier because I got them! All thanks to my planner genius self! Go Me!  
If you find yourself making plans but never achieving them, try making sure:
1. Your plans are in sight. What you focus on you create more of.
2.You control your time. Figure it out. You are in control of your own universe.
3.Do you Boo Boo! If your current system is failing you, find what works. If your life changes, shouldn't your planner?!
4.Update as life happens. It changed, now - what's your NEW plan?
Have you ever had these feelings? Have you ran from your planner? What got you back on track?
Talk to me in the comments! I talk back!
Xo,
Nicole